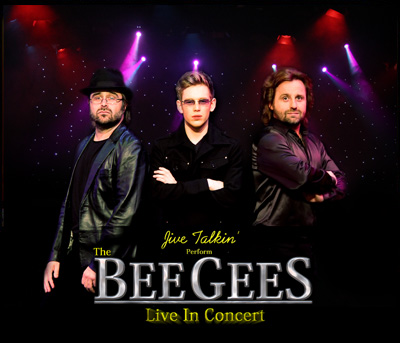 Jive Talkin'
Perform as
The BEE GEES Live In Concert
Jive Talkin' unites the UK's hottest talent for a truly inspiring evening of everything Bee Gees. This is the show that Bee Gees fans everywhere have been waiting for.


Jive Talkin' is the country's premier tribute to the BEE GEES whose these three leading men collectively have career highs including starring in London's West End, numerous world wide TV appearances and performing live with the Bee Gees themselves. Backed up by a full live band, they recreate to perfection the extensive Gibb Brother's repetoire. Never before has there been a more complete Bee Gees experience, which has audiences' both reaching for their handkerchiefs and dancing in the aisles!

Featuring the heavily orchestrated 60's hits (such as Massachusetts & Words) and the many disco classics (such as Stayin' Alive and Night Fever), the Bee Gees catalogue of hits is bought to life in its most pure form. The show also features a stunning acoustic medley of some of the Bee Gees earlier hits showcasing the uncanny voices of the three lead singers creating a truly emotional musical journey.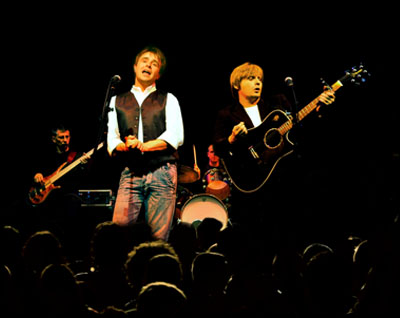 The Simon & Garfunkel Experience
The Ultimate Tribute to Simon & Garfunkel
An accurate and delicate recreation of the haunting melodies and harmonies that have made this 60's folk/pop duo's hits reach out to new fans across five generations.


Experience all the classic tunes such as Mrs Robinson, Homeward Bound, Sounds of Silence, The Boxer and Bridge Over Troubled Water as they are beautifully rendered in stunning close two part harmony. Backed by a full live band, the unique and distinctive sound of Simon & Garfunkel is reproduced so accurately it amounts to a performance that will leave you greatly moved.

Fronted by two of the most respected harmony singers in the industry today, their skill and personalities make this show an intimate experience in which they share heart and soul with the audience as they steer them through some of the most haunting harmonies and chilling melodies ever written.